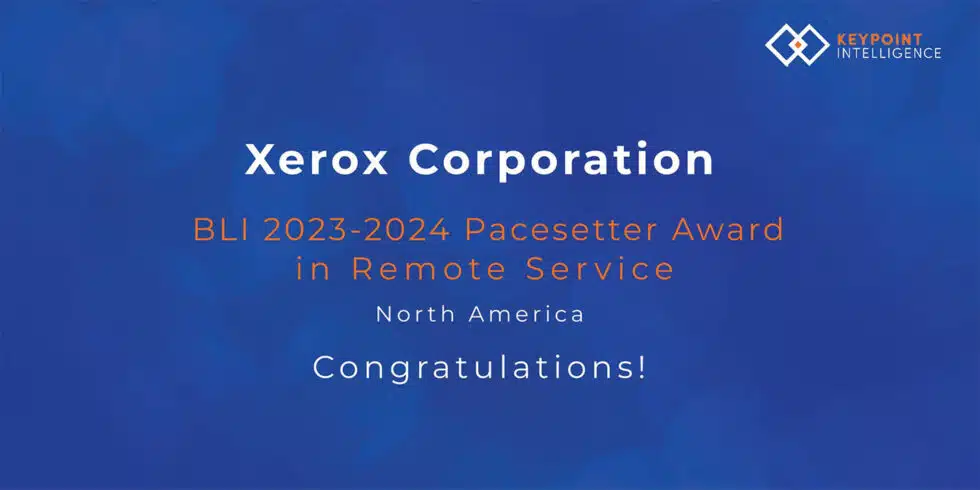 CareAR's technical innovation and integration with existing systems noted for leading service experience engagement
Plano, Texas — November 17, 2022 — CareAR™, a Xerox company and Service Experience Management (SXM) market leader, today announced that Keypoint Intelligence has awarded Xerox with the Buyers Lab (BLI) 2023-2024 Pacesetter Award for Excellence in Remote Services in North America. Keypoint Intelligence recognized Xerox for the most consistent across the board scoring for remote service performance characterized by excellence in Vision, Innovations, Achievements, Serving the Remote Worker, Serving the Enterprise, Regional Marketing, and Channel Activities.
CareAR's augmented reality (AR) solutions stood out for technical innovation and integration with existing systems. Bringing customers immersive visual engagement with Xerox technical support representatives is resolving significantly more customer issues without requiring a field service visit. If a field dispatch is required, support agents can conduct a pre-site survey, capturing snapshots and videos with CareAR integrated with Xerox's ServiceNow platform. The resulting visual context empowers technicians with insight that speeds issue resolution.
"Customers expect faster resolution and a better service experience," said Sam Waicberg, CareAR President and Co-Founder. "Using real-time augmented reality and AI, CareAR accelerates time to resolution, lowers costs, and transforms service experiences for customers and employees."
Through its use of CareAR technology, Xerox experts around the globe collaborate with customers via their standard smartphones to see what they see. Graphical guidance overlayed within the customer's device's field of view is anchored in place for an exceptionally effective and engaging customer experience.
In the past year, Xerox estimated it avoided more than 21,000 technician dispatches due to CareAR remote solve effectiveness. Enhanced customer experience, cost efficiency, and saving 269,000 Kg GHG in emissions are additional benefits resulting from CareAR innovation in Xerox's remote services.
To learn more about CareAR and its SXM solutions, visit https://carear.com/.
About CareAR
CareAR, A Xerox Company, is the Service Experience Management (SXM) leader. We make expertise accessible instantly for users through remote, live visual augmented reality (AR) and AI interactions, instructions, and insights as part of a seamless digital workflow experience. CareAR sets the benchmark for the SXM category by bridging skills gaps, accelerating knowledge transfers, providing greater operational efficiencies, and enhancing customer outcomes and safety. Learn more at CareAR.com.
About Keypoint Intelligence
For 60 years, clients in the digital imaging industry have relied on Keypoint Intelligence for independent hands-on testing, lab data, and extensive market research to drive their product and sales success. Keypoint Intelligence has been recognized as the industry's most trusted resource for unbiased information, analysis, and awards due to decades of analyst experience. Customers have harnessed this mission-critical knowledge for strategic decision-making, daily sales enablement, and operational excellence to improve business goals and increase bottom lines. With a central focus on clients, Keypoint Intelligence continues to evolve as the industry changes by expanding offerings and updating methods, while intimately understanding and serving manufacturers', channels', and their customers' transformation in the digital printing and imaging sector.
Media Contact